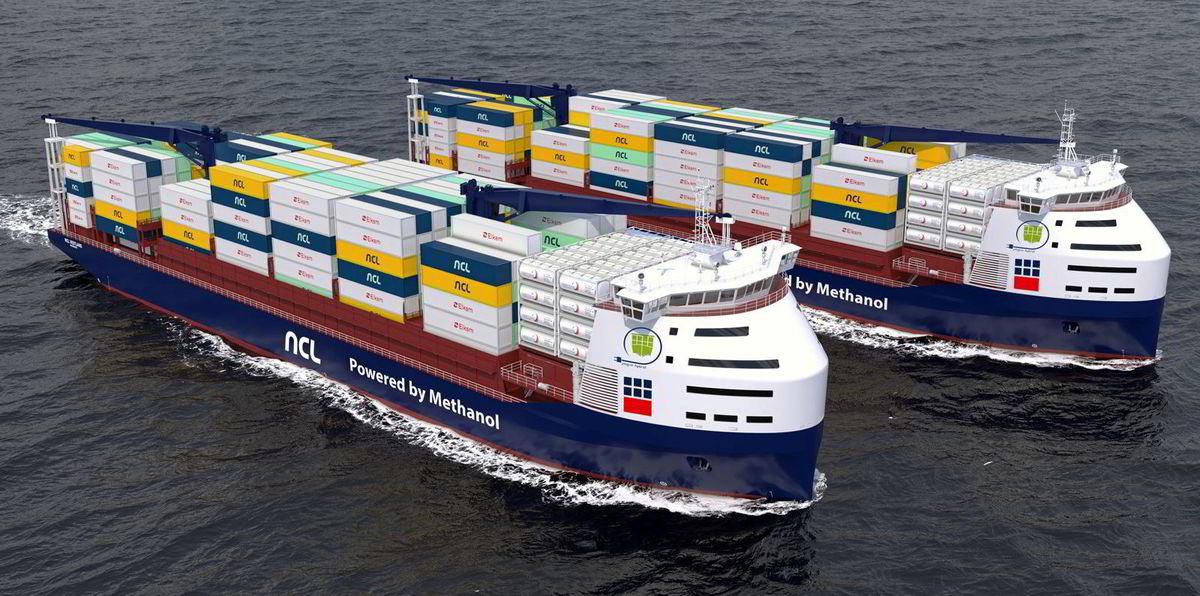 A rendering of the two dual-fuel methanol container ships that have been ordered by German shipowner MPCC, which will be chartered to Norwegian operator North Sea Container Line (NCL).
Photo: MPCC
Ammonia derived from green hydrogen has been touted as the most likely clean shipping fuel of the future, but shipbuilding orders show that another H2 derivative, methanol, is currently preferred
With the global shipping industry responsible for almost 3% of global greenhouse gas emissions today — and on track to reach 10% by 2050 at current growth rates — the sector is aiming to replace the fossil fuels it uses today with carbon-neutral alternatives, which for long-distance journeys would require green hydrogen or one of its derivatives, or possibly biofuels.
Due to the poor volumetric energy density of compressed and liquid hydrogen (1.2kWh and 2.4kWh per litre, respectively), the zero-carbon maritime fuel of choice is often said to be liquid ammonia (NH3) — produced by combining hydrogen with nitrogen from the air.
Not only is it more energy dense by volume — the all-important metric for shipping — at 3.5kWh/l, but it is also far easier to handle than liquid hydrogen, which requires cryogenic temperatures of below minus 253°C.
However, major shipping companies such as Maersk have already expressed a preference for a different hydrogen derivative altogether — methanol (CH3OH), which is produced by combining H2 with captured CO2.
Not only does methanol have a higher volumetric energy density of 4.33kWh/l, but it is a liquid at room temperature, making it far easier to handle than hydrogen or indeed, ammonia, which must be stored at temperatures below of minus 33°C.
Methanol is also far less toxic than NH3, and therefore safer to transport, as two recent reports point out (see below).
According to the latest Alternative Fuels Insight report from DNV, 54 methanol-powered vessels are in service or been ordered from shipbuilders (including dual-fuel propulsion systems), compared to eight hydrogen ships, and zero ammonia-powered ones — although orders for the latter are expected soon.
And according to Recharge's sister newspaper, the shipping title TradeWinds, three big-name shipowners — Denmark's Maersk, Germany's MPCC and France's CMA CGM — have already ordered 26 methanol dual-fuel vessels between them. And three more major operators — Cosco, Eastern Pacific and Pacific International Lines — are eyeing methanol propulsion for their next round of new containers ships.
Dual-fuel engines that can run on both methanol and traditional, highly polluting bunker fuel are the favoured option at present because methanol is not yet available as a shipping fuel at any kind of scale.
And of course, to be considered carbon-neutral, the methanol would have to be produced from green hydrogen, with all the energy used to synthesise methanol being renewable.
"Owners are waking up to the fact that the next alternative — ammonia — is not that easy," one ship broker told TradeWinds, mentioning ammonia's toxicity and the need to remove nitrous oxide — a potent greenhouse gas produced when burning ammonia — from the exhaust stream.
Is ammonia too dangerous to be a shipping fuel?
A new report by classification society Bureau Veritas and oil giant TotalEnergies found that ammonia's toxicity posed serious health risks for those on board.
"For shipowners and designers, therefore, a key challenge is to prevent accidental ammonia leaks during ship operations and bunkering," it said.
Whereas liquefied natural gas (LNG) becomes dangerous to humans at around 50,000 parts per million (ppm) in the air, ammonia starts to affect health at just 30ppm when permanently exposed, or around 300ppm when exposed for one hour.
Modifications to design and safety distances should be much greater for ammonia than for LNG, they concluded.
More stringent leak management on board and vapour gas processing is needed to avoid even small leaks reaching manned areas.
And a separate study, Future Fuels Risk Assessment, released in late June by Together in Safety — a collaboration between several entities, including Maersk and oil majors Shell and Chevron — found that methanol posed the least overall risk of potential clean fuels, with ammonia having "high" or "intolerable" risks.
These included grounding or collision leading to hull breaches, damage to cargo equipment, and leaks during bunkering (ie, fuelling at port).
Laurent Leblanc, senior vice-president of technical & operations, at Bureau Veritas Marine & Offshore, said further experiments and analysis are required to reach definitive conclusions.
"This preliminary study helped identify future areas to explore for de-risking ammonia as [a] fuel," Leblanc said.
Additional tests could be performed for leak design scenarios, bunkering safety zones, bunkering arrangements and the effect of weather conditions, he added.