Shipping giant Maersk has unveiled its design for a series of eight 'carbon-neutral' methanol-powered ultra-large containerships currently on order.
The 16,000 TEU capacity ships will be built by Hyundai Heavy Industries (HHI) with delivery planned in the first quarter of 2024.
The design of the vessels was presented today during a virtual presentation that included Morten Bo Christiansen, our Head of Decarbonisation, along with Ole Graa Jakobsen, Head of Fleet Technology, and Emiliano Austi, Head of Naval Architecture.
Most striking is the forward accommodation that Maersk says will enable greater container capacity and improved port efficiency by separating the accommodation and funnel. The funnel is also designed with a reduced footprint and will be located at the stern to maximize cargo capacity.
"The making of this took nearly five years, and all while crossing uncharted naval design territory," Maersk said in a statement. "To enable this new design, several challenges had to be addressed. Firstly, crew comfort had to be ensured with the accommodation placed in this more exposed location. Moreover, adequate hull strength was also a key parameter to safeguard, with the accommodation block normally working as a hull "stiffener" when placed further backwards. New arrangements for lifeboats and navigational lights had to be developed, plus new cameras to support the captain's view when navigating."
The vessels, measuring 350 meters long and 53.5 meters wide, will come with a dual fuel engine setup that will enable operation on carbon-neutral green methanol as well as conventional low Sulphur fuel. A 16,000 cubic meter fuel tank means the ships to complete a full round trip (from Asia to Europe, for example) running on green methanol.
Renewable methanol, aka green methanol or e-methanol, is an ultra-low carbon chemical produced from sustainable biomass (called bio-methanol) or captured carbon dioxide and hydrogen produced from renewable electricity, according to the Methanol Institute. By using green methanol as a fuel, Maersk says the vessels will achieve 20% improved Energy Efficiency per transported container compared to the industry average, saving around one million tons of CO2 emissions each year across the eight-ship series.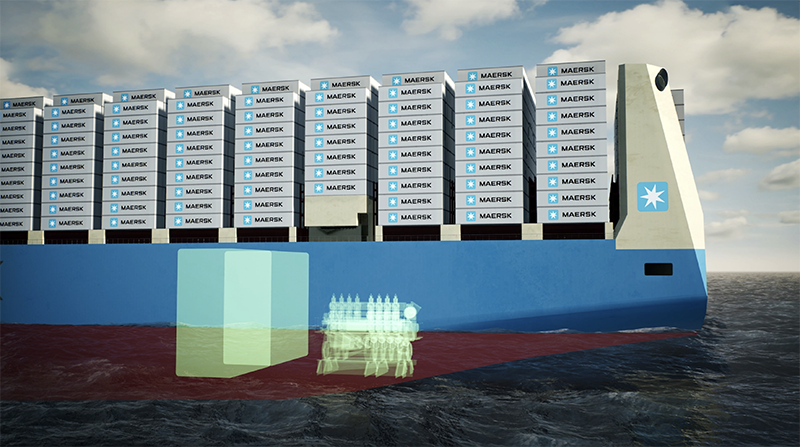 According to an earlier announcement, the methanol propulsion configuration has been developed in collaboration with MAN ES, Hyundai (Himsen), and Alfa Laval, and represents a scaled-up version from the previous size limit of around 2,000 TEU. The vessels will be classed by the American Bureau of Shipping (ABS) and sail under Danish flags.
The shipbuilding order at HHI was placed in August and followed an order in February for a single 2,100 TEU methanol-powered dual fuel feeder ship to be built at Hyundai Mipo Dockyards. With delivery planned by 2023, the 172-meter-long ship will become the first in the sector to be powered by carbon neutral methanol, sailing for Sealand Europe (a Maersk subsidiary) on the Baltic shipping route between Northern Europe and the Bay of Bothnia.
In August, Maersk announced a partnership with REintegrate and European Energy for a new facility in Denmark that will produce approximately 10,000 tonnes of e-methanol annually for the feeder. The facility will use renewable energy provided by a solar farm in Kassø, Southern Denmark, and "biogenic CO2" to produce the fuel. Fuel production is expected to start in 2023 to coincide with the ship's delivery.
Maersk in 2018 set a goal of becoming carbon neutral by 2050 which included a promise to develop a commercially viable net-zero C02 vessel by 2030, so it seems with these vessels it could be well on its way to that goal. Also, the order with Hyundai Heavy Industries included an option for four more vessels due in 2025, so more could be on the horizon.
Image Credits: A.P. Moller-Maersk