Singapore (Platts)–8 Sep 2017 438 am EDT/838 GMT
Sabic procured 45,000 mt of CFR China spot methanol cargoes this week to cover production losses from its Al-Razi plant outages in Al-Jubail, Saudi Arabia, a source close to the company said Friday.
Sabic bought two second-half September loading, 5,000-mt cargoes from Tricon earlier this week at $360/mt and $364/mt CFR China, and the rest on a 4%-4.1% premium to Platts/ICIS CFR China from Chinese and Southeast Asian traders, market sources said.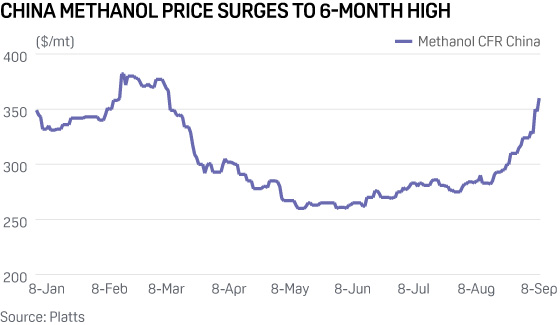 It bought the rest on a formula basis of plus 4% or above from Chinese and Southeast Asian traders, market sources added.
Sabic will explore time swaps with major Middle Eastern producers to help mitigate the inventory crunch, and may require more spot purchases depending on the plant status, a company source said, without elaborating on the outage.
Ar-Razi's methanol units No. 2, No. 3, and No. 4 remained shut this week and will take an estimated 30 more days to repair, representing a production loss of up to 190,000 mt, industry sources said Friday.
The No. 2 unit has a nameplate capacity of 700,000 mt/year, while units No. 3 and No. 4 units can produce 800,000 mt/year.
The No. 3 unit, which was shut for 40 days of maintenance in end-July, was originally set to restart at the end of August, sources said earlier.
The Ar-Razi facility has an overall methanol production capacity of 5.6 million mt/year and is a joint venture of Sabic and a consortium of Japanese companies led by Mitsubishi Gas Chemical Co.
In Southeast Asia, methanol supplies will tighten later in September and October due to planned turnarounds.
Brunei Methanol is due to take offline its 850,000 mt/year methanol unit in Sungai Liang later this month for 30-45 days.
Malaysia's state-owned Petronas is due to shut its No. 1 unit in Labuan, which produces 750,000 mt/year of methanol, in early October for about a month.
Indonesian producer Kaltim will shut its Bontang-based 660,000 mt/year methanol unit sometime in mid-to-late October for about 45 days.
–Yi-Jeng Huang, yi.jeng.huang@spglobal.com
–Edited by Arnab Banerjee, arnab.banerjee@spglobal.com