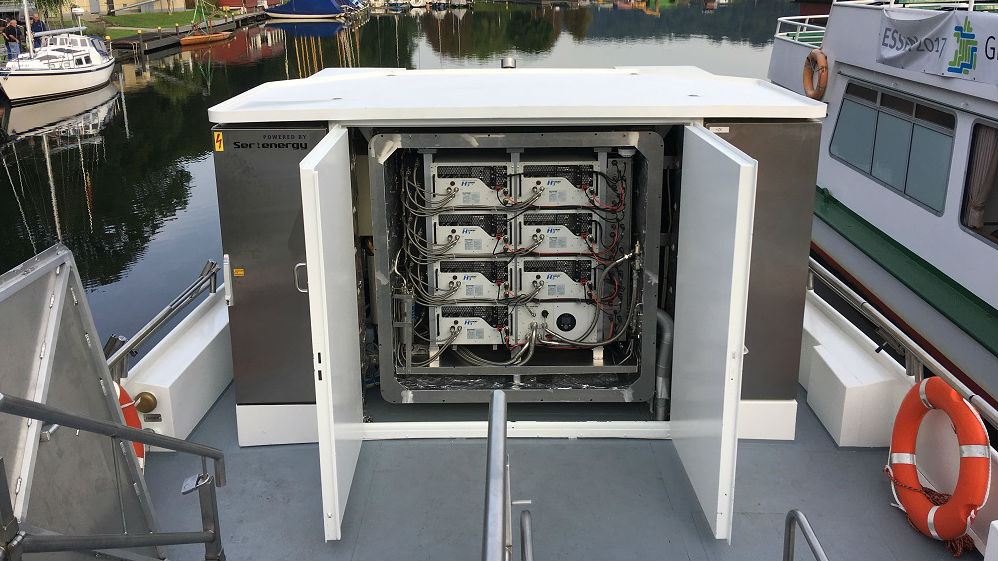 The MS innogy, the first vessel in Germany to be powered by methanol fuel cells, was named on Friday. The passenger ferry, which will sail on Lake Baldeneysee, Essen, features a fuel cell system manufactured by the Danish fuel cell manufacture SerEnergy.
The ferry was built to showcase the potential of methanol as a fuel of the future and is the result cooperation between energy company innogy and SerEnergy.
The SerEnergy methanol fuel cell system is a modular solution, says the company, a unique feature within the fuel cell industry where other systems would require more development work for individual projects.
The MS innogy fuel cell system is a 35kW system consisting of seven 5kW modules integrated in one rack. The energy system is a hybrid constellation consisting of a fuel cell system and a battery pack, where the fuel cells work as a range extender allowing the vessel to sail for an entire day without fueling. Using waste heat from the fuel cell to drive the methanol reformation process leads to a high electrical efficiency between 40-50 percent.
There are no harmful air emissions, and the system is CO2-neutral, as well as being low on noise and vibrations.
The system for MS innogy is based on knowledge and experience that SerEnergy has gained being part of the Pa-X-ell test program, where a methanol fuel cell system was placed on a cruise ship to produce electricity for the ship's internal power grid.
The MS innogy is a part of innogy's "greenfuel" project designed to demonstrate the entire value chain of environmentally friendly methanol, from a green production of methanol using CO2 from the surrounding air, green electricity and water, to the use of methanol as fuel in the excursion vessel and in cars. The scene of the methanol value chain demonstration project is the City of Essen – this year's Green Capital of Europe.