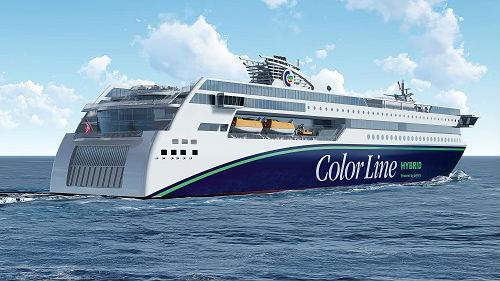 Fuel cells, advanced battery packs and the world's biggest hybrid ferry –  zero-emission technologies are becoming an emerging force in the maritime world.
The international shipping industry is facing an increasingly tight regulatory environment, especially when it comes to emissions to air. And with the recent decision to implement the global sulfur cap in 2020 and to add the North and Baltic Seas to the list of nitrogen oxide (NOx) emission control areas, the pressure is on. For zero-emission solutions such as fuel cells, battery and hybrid technology, these developments have been a real boost.
Color Line's decision to order Color Hybrid is the latest milestone for the adoption of battery hybrid solutions in shipping. With a length of 160 meters (525 feet), it will have the capacity to carry 2,000 passengers and around 500 vehicles – making Color Hybrid the world's biggest hybrid ferry. After its delivery from the Norwegian Ulstein Verft in 2019, the vessel will operate between Norway and Sweden.
A promising technology
As a plug-in hybrid, Color Hybrid's batteries will be recharged either with a power cable with green electricity from shore or by the ship's onboard generators. Its bank of four-to five MWh batteries will deliver sufficient power to enable fully electric operation for 30 minutes and enough to sail, silently and with zero CO2, NOx and SOx emissions.
"To date, hybrid battery solutions have been mostly confined to smaller car ferries, offshore  supply vessels and tug boats, where they can handle spikes in power demand, and on shorter ferry routes," says Narve Mjøs, Director Battery Services & Projects at DNV GL – Maritime. However, innovative research conducted to develop batteries for the automobile industry means that today batteries boast enhanced power density, and the cost of lithium-ion batteries has been lowered by up to 80 percent over the past four years, making battery and hybrid technology a more attractive option for larger ship segments as well.
Last autumn Hurtigruten signed a contract with the Norwegian Kleven yard for two 140-meter-long (460-foot-long) hybrid cruise ships. DNV GL is the classification partner for both projects. The first of the Hurtigruten vessels will feature a battery-powered auxiliary engine for "peak shaving", where the battery dynamically responds to cover spikes in demand – this measure alone is predicted to cut fuel consumption by 20 percent.
The second vessel will have batteries capable of sustaining fully electric operation for 15 minutes, possibly more. If it proves successful, this more ambitious implementation will later be retrofitted to the first ship.
"I am confident we will see battery and hybrid technology being implemented on large transoceanic cruise vessels as well. For example, operators could use battery power to eliminate emissions during port sailing and port operations and ensure noise- and vibration-free operations when sailing through spectacular tourist sites such as fjords. Battery power could also power tender boats and eliminate any vibrations and diesel smoke," says Mjøs.
A new generation of fuel cells
Another zero-emission technology which has gained traction is fuel cells. In Germany, leading  German shipbuilders, shipowners, suppliers and DNV GL have joined forces in the fuel cell project e4ships. Launched in 2009 with support from the German government, e4ships aims to develop technical solutions for the implementation of fuel cells in marine applications and feeds into the development of international regulations on fuel cells.
Successful pilots 
Fuel cells are quiet, efficient and cause no noticeable vibration. To make this technology safe to use and commercially viable, the e4ships consortium has developed fuel cells capable of running on low-sulfur diesel or methanol, and has tested them in several pilot projects.
In the Pa-X-ell project, DNV GL and the German cruise yard Meyer Werft are working together to trial high-temperature PEM fuel cells, powered by methanol, on board passenger ships. ThyssenKrupp Marine is heading another project called SchIBZ, which  focuses on the development of a scalable, integrated hybrid fuel cell system for ocean-going ships, with a rated power output of 50 to 500 kilowatts. This hybrid system has an electrical efficiency of approximately 50 percent.
Finally, the Rivercell project is dedicated to the design and development of a fuel cell hybrid system for inland vessels. "The pilot projects have successfully completed initial readiness tests for maritime deployment and have been installed on board ships for prototype trials," says Lars Langfeldt, Senior Project Engineer at DNV GL – Maritime, who works on the e4ships project. "All of them use fuels that are readily available in large quantities around the world," he adds. While Rivercell and Pa-X-ell use methanol as an energy source, the fuel cell system tested in the SchIBZ is powered by low-sulfur diesel.
The second phase
Currently, the e4ships project partners are focusing on the next development steps and prototype tests as well as the design of decentralized on-board networks comprising several fuel cells. Project phase II is scheduled to continue until 2021 – the ultimate goal is to present production-ready technologies.
New insights, generated by e4ships and its pilot projects, have already made an impact on the shipping world. "The results of the first phase have made an important contribution to the IMO's International Code of Safety for Ship Using Gases or Other Low-flashpoint Fuels (IGF Code), which entered into force in January 2017. The code is an important prerequisite for fuel cell technology to reach market maturity, and we are very proud to be part of that," says Dr.-Ing. Gerd Würsig, Business Director Alternative Fuels at DNV GL – Maritime, who heads the classification society's involvement in the e4ships project.
"e4ships is a milestone achievement for the use of alternative energy conversion technologies and fuels in shipping. We are very pleased with the way it is progressing, and we look forward to continuing our work with all the project partners to make this a success."
Source: DNV GL Maritime Impact 01/2017