23 March 2017 01:33   Source:ICIS Chemical Business
The US petrochemical sector is undergoing a tectonic shift on the back of shale gas with the first wave of ethane crackers starting up this year. US President Donald Trump could well shake up the sector even more with his key policies.
Trump's first speech to the joint session of Congress on 1 March revealed little detail to his platform policy issues, but reiterated business friendly changes with broad implications for US manufacturing and petrochemicals.
Most relevant to the US chemical industry are corporate tax reform, including a potential border adjustment tax (BAT); infrastructure spending; and rollbacks of regulations, including on energy development – all of which Trump touched upon.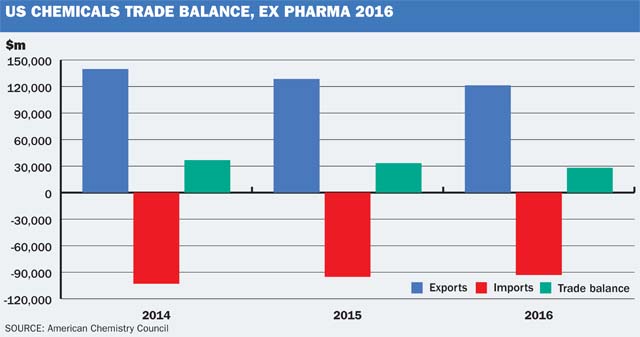 On taxes, Trump alluded to a potential border tax or BAT without mentioning them by name.
"Currently, when we ship products out of America, many other countries make us pay very high tariffs and taxes. But when foreign companies ship their products into America, we charge them almost nothing," said Trump.
A border tax would be a simple tax on all imports, essentially a tariff which would raise their cost. A border adjustment tax (BAT) could exempt US exports from taxes, while not allowing imported raw materials or cost of goods sold (COGS) to be deducted as an expense for tax purposes.
The BAT, which is being talked about in Congress, would incentivise companies to build plants in the US to export goods, and heavily penalise the use of imported materials.
This could have massive implications for chemical and polymer supply chains where companies – and not just those in chemicals – would be highly incentivised to source local raw materials and eschew imports.
On trade protectionism, Trump quoted former president Abraham Lincoln, who early after his first election to Congress, warned that "abandonment of the protective policy by the American Government [will] produce want and ruin among our people."*
Any US border tax would be harmful to the US chemical industry, said a private equity firm senior executive.
"For a chemical industry that is very global and excellent at shipping, a border tax would be bad. It would harm economic growth overall and particularly hurt the chemical industry," said Thomas Kichler, partner and US head of industrials and energy at CVC Capital Partners at an early March meeting of the CMEACS, the business and investment group of the American Chemical Society.
"The US has been such a great place to do business because of free enterprise. If government has more of an influence on what individual companies do, that will lead to bad decisions," he added.
Whether or not a protectionist tax regime would pass Congress is one thing, but we should fully expect a border tax or BAT to be on the table.
US CHEMICAL TRADE SURPLUS
The US chemical industry, excluding pharmaceuticals (all following data ex pharma), has a substantial surplus in global trade. This surplus amounted to $28.2bn in 2016, according to statistics compiled by the American Chemistry Council (ACC).
Mexico, the target of much of Trump's talk on trade protectionism, is the second largest destination for US chemical exports ($19.2bn in US exports) behind Canada, and accounts for more than half of the total US trade surplus in chemicals ($14.6bn) – by far the most of any other country.
That represents a major risk in the event of retaliatory trade measures by Mexico, as well as other countries. Purely from a tax standpoint, a US BAT would be a net positive for the US chemical industry, but a trade war would be very negative.
US CAPACITY WAVE
A trade war would especially be harmful at this juncture when the US is on the verge of bringing on a massive wave of ethylene and derivatives capacity, largely polyethylene (PE), of which much will be targeted for export.
The first US cracker in the wave – a joint venture between Occidental Chemical and Mexichem with 544,000 tonnes/year of ethylene capacity in Ingelside, Texas, started up at the end of February 2017 and is expected to ramp up to full rates by September 2017.
The ethylene will be used to produce vinyl chloride monomer (VCM) at the site, the majority of which will be shipped to Mexichem's polyvinyl chloride (PVC) plants in Mexico and Colombia.
Seven more crackers in the US are under construction, with Dow Chemical, Exxon-Mobil Chemical and Chevron Phillips Chemical next on tap this year, each with 1.5m tonnes/year of ethylene capacity and varying amounts of downstream PE.
The PE capacity downstream from ExxonMobil's cracker in Baytown, Texas – 1.3m tonnes/year of linear low density PE (LLDPE) and metallocene LLDPE – is being built almost exclusively for export.
Major destinations for export include Asia Pacific, Latin America, Middle East and Africa, as well as Europe, in that order, noted a source in the company.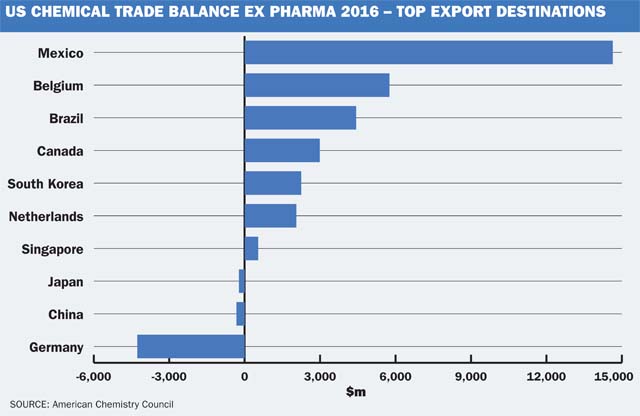 Chevron Phillips Chemical, which is building 1.0m tonnes/year of PE capacity – 500,000 tonnes/year of high density PE (HDPE) and 500,000 tonnes/year of metallocene LLDPE in Old Ocean, Texas, near its cracker in Cedar Bayou, Texas – expects to export 30-50% of its PE output initially, with that amount eventually falling in line with its current PE export level of 20%.
LyondellBasell CEO Bob Patel, whose company is building a 500,000 tonne/year HDPE project in LaPorte, Texas, for start-up in mid-2019, sees overall US PE exports rising from the high-teens–20% range today, to 30% or higher after all the new capacity starts up.
"As an industry, free trade is important. For feedstock advantaged regions such as the US, the way to monetise this is to serve global markets. We are watching to see what develops," said Bob Patel, CEO of LyondellBasell, in an interview with ICIS.
Paul Hodges, chairman of consultancy 
International eChem, sees the US PE capacity situation as problematic and further complicated by Trump's trade and energy policies.
"Almost inevitably, [US PE producers] will be forced to fight very hard to gain market share by reducing prices. This will start in export markets, as these offer the only chance of taking the new volume," said Hodges in International eChem's late February pH Report.
"But, of course, local suppliers and existing importers will also react – and politicians will likely also react by claiming the exports are being 'dumped' at lower prices than those obtaining in the US domestic market. In turn, this will open up a wider debate about the role of President Trump's support for the energy industry – particularly if he has followed through on his pledge to offer tax incentives to exporters."
On non-border related tax reform, any reduction in the corporate tax rate from a current 35%, to around 20% – a level being talked about in Congress – would be a boon for US chemical companies. Yet it is unclear whether this potential reduction would have to be in conjunction with a border tax or BAT.
"Reducing the corporate tax and changing depreciation guidelines would be directionally positive, giving us more cash flow 
to reinvest in our business," said Lyondell-
Basell's Patel.
Among the tax aspects being discussed is the ability to deduct capital expenses immediately or over an accelerated timeframe, giving more favourable tax treatment to capital expenditures. This would be particularly beneficial to the capital intensive petrochemical industry.
INFRASTRUCTURE PLANS
Trump also reiterated his commitment to a massive infrastructure plan, asking Congress to 
"approve legislation that produces a $1 trillion investment in the infrastructure of the United States, financed through both public and private capital, creating millions of new jobs."
This is incrementally positive for the US chemical sector, and even more that the programme would be "guided by two core principles: buy American, and hire American," he said.
That would favour US chemical companies or those with chemical plants in the US that would provide the polymers, coatings, adhesives, solvents and other materials used in the construction of critical infrastructure – from roads, bridges, railways and airports, to energy and telecom assets.
REGULATION ROLLBACK
On regulations, Trump reiterated his commitment to rolling them back to help US business. On 24 February, he signed an executive order directing federal agencies to create regulatory reform task forces to review which regulations to keep, change or slash.
"President Trump and his administration continue to demonstrate an understanding of what it will take to drive growth in US manufacturing. Their focus on smart regulations, competitive taxes, fair trade, training and education are hitting the sweet spots to bring back manufacturing jobs for the new century," said Dow Chemical in a statement.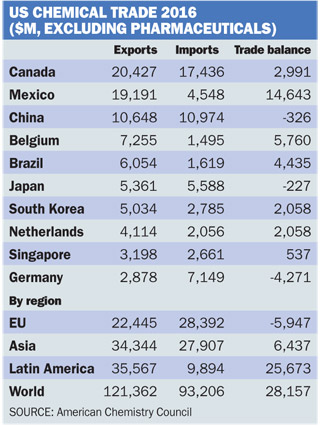 "The Executive Order the President signed today (24 February) is another significant step, as regulatory reform is essential to driving the investments and innovation that result in job and economic growth," it added.
"There is real meat on the bones," said Dow chairman and CEO Andrew Liveris, regarding the administration's collaboration with business leaders such as the manufacturing company CEOs.
The Trump administration also cleared the way for the construction of two major crude oil pipelines – the Keystone XL pipeline and the Dakota Access pipeline.
Any rollback of regulations that promotes the development of more energy resources would be a benefit to the US chemical sector as well.
"On the regulatory front, the approval of the pipelines is directionally positive, allowing us to harvest resources and bring them to market," said LyondellBasell's Patel.
"The policy priorities President Trump outlined tonight (28 February speech to joint session of Congress) will further the manufacturing renaissance made possible by the shale revolution and ensure the robust production of the fuel and petrochemicals that Americans rely on every day," said Chet Thompson, president of AFPM.
*Lincoln's actual quote was a bit longer: "Believing that these propositions, and the [conclusions] I draw from them can not be successfully controverted, I, for the present, assume their correctness, and proceed to try to show, that the abandonment of the protective policy by the American Government, must result in the increase of both useless labour, and idleness; and so, in pro[por]tion, must produce want and ruin among our people."
By