31 January 2017 22:36 Source: ICIS Chemical Business
Northeast Asia's ethylene spot prices rose to their highest levels since April 2016, driven by demand for second-half February deliveries amid fewer offers in the market.
Two deals were concluded at $1,230/tonne CFR (cost and freight) NE Asia for cargoes to be delivered in the second half of February, versus offers at $1,250/tonne CFR NE Asia.
Most players in China were not active in the days leading to the country's week-long Lunar New Year holiday on 27 January to 2 February. But traders and some buyers expect prices to remain bolstered by lingering strong demand in northeast Asia amid improved affordability following the recent strong performance in most derivatives markets.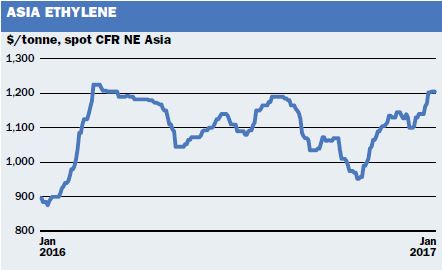 REDUCED MTO OUTPUT
China is currently short on ethylene due to reduced output at several methanol-to-olefins (MTO) plants amid maintenance, and poor economics for some.
China's Fund Energy continued to operate its new MTO plant, which is located in Changzhou City in Jiangsu province, at around 70-80% of capacity since the week ended 13 January.
The MTO plant, which can produce 165,000 tonnes/year of ethylene and 165,000 tonnes/year of propylene, started up on 25 December.
Separately, Xingxing New Energy shut its 690,000 tonne/year MTO plant in Jiaxing for planned maintenance on the morning of 22 January.
Meanwhile, regional ethylene spot cargoes from northeast Asia remained scarce owing to healthy downstream plant operations.
On the other hand, ethylene priced at above $1,200/tonne CFR NE Asia was proving to be a burden for some derivative sectors.
A downstream producer in northeast Asia was weighing cutting operating rates or shutting down its plant in March and procure product from the spot market.
Discussions in China were comparatively subdued as market players leave for the Lunar New Year holidays but the majority of buyers were reluctant to consider prices above $1,200/tonne CFR China despite encountering a lack of firm offers or cargo availabilities from key traders.
Discussions to sell second-half February to first-half March deliveries at $1,180-1,190/tonne CFR China during the week were inconclusive as buyers had exited the market by 26 January.
Other buyers in northeast Asia outside China fear prices may touch $1,250/tonne CFR NE Asia in the near term as their demand for March and April delivery was expected to remain strong due to healthy downstream plant operations amid supply concerns owing to cracker turnarounds during the period.
"Suppliers are all not keen to sell cargoes as they expect prices to increase further," a China-based buyer said.
During the week ended 20 January, ethylene spot prices were at $1,145-1,180/tonne CFR NE Asia, up by $15-30/tonne week on week.
By