Breakthrough Diesel Technology Lowers Costs & Emissions
Through a simple upgrade of existing diesel engines (trucks, locomotives and ships), IGP's patented Dual Fuel Technology (DFT) introduces methanol into the air intake to replace 30-40% of diesel volumes with cheaper and cleaner methanol. This has the effect of lowering the user's total fuel costs by 15%–20% while slashing unhealthy particulate pollution (PM 2.5) and black carbon (BC) by ≈50%. Further benefits include lowering sulfur (SOx) and nitrous oxide (NOx) emissions by ≈35%, and reducing CO2 emissions by 15%-20%.
Converting all diesel engines to run on 30% methanol using IGP's Dual Fuel Technology would deliver the equivalent climate impact as electrifying all the world's cars.
IGP Dual Fuel New Energy Science & Technology Co., Ltd.
IGP has established a 50/50 Joint Venture with the developers of the Dual Fuel Technology from Tianjin University (China), who have proven the technology in over 2,000,000 KM of testing during the past decade. The wide diversity of testing sites are indicated by red dots on the map. DFT delivers on the Chinese government's goals of 1) reducing harmful air pollution, 2) lowering China's reliance on petroleum imports, and 3) cutting CO2 emissions.
The technology is ready for rapid commercialization within China. IGP's Chinese JV has received orders for thousands of DFT truck installations from customers who participated in the DFT testing program and want to expand the technology's cost-saving impact to more of their vehicles. Additionally, the Chinese government has indicated it may offer legislative support for widespread implementation of the technology in trucks and marine vessels.
Dual Fuel China Market Opportunities

China's 2018 consumption of diesel was about 160 million tons (51 billion gallons/year).
In 2018, China's diesel-powered vehicles emitted 68% more NOx and 95% more PM than other motor vehicles.
China Truck Market is Top Priority For DFT JV
The 25-million-vehicle Chinese truck market includes four million high-consuming diesel-powered tractor trailers that are most suitable for DFT technology. Assuming a 20% penetration of China's tractor trailer market, IGP's DFT JV would achieve:
$4 billion annual increase in methanol demand (12 MMTPY)
$10 billion annual decrease in diesel use (2.9 billion gallons, or 0.2 MMB/d)
40+ million metric tons per year (MMTPY) of CO2e savings
Further Dual Fuel Applications and Prospects

Marine Engine Study
Bench test of marine diesel engine yielded superior results
28% diesel replacement
Replacement ratio of 1.1 gallons of methanol per gallon of diesel replaced
17% fuel savings
Locomotive Research

At present, the first diesel-methanol combined combustion locomotive is undergoing endurance assessment in the Hefei locomotive section.
In view of the initial success of the project, market and user research should be conducted as soon as possible to understand user needs, user concerns and develop locomotive design and engine optimization as soon as possible.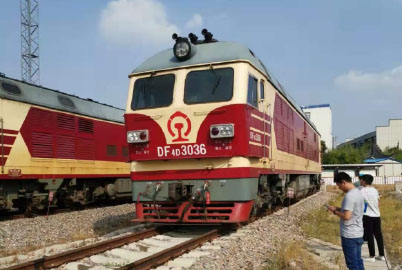 Dual Fuel Technology in the Rest of the World

Outside of China, IGP owns exclusive commercialization rights for the DDualFuel Technology for the rest of the world, including substantial market interest from India and Brazil that could be as large as the Chinese market. IGP's DFT businesses are attractively positioned for rapid maturation into a high-growth public company.